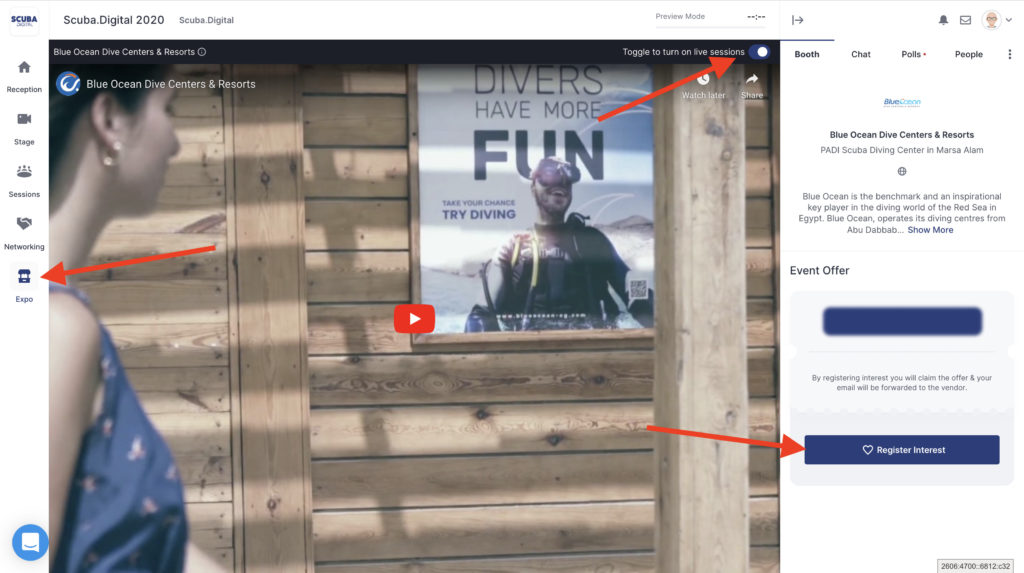 As an exhibitor you can log into the Scuba.Digital event platform by using the email address and password you provided at registration for your exhibitor ticket.
To gain access to your booth you simply turn up on the day, enter the event and go to the expo area via the left menu. In the Expo area, enter your company name in the search field without pressing Enter and you'll see your booth. Then click on the booth listing to enter your booth. In the screenshot above you can see a toggle switch above the playlist. This allows your booth moderators to switch your booth from being live (when you are at your booth) to video (when you are not at your booth) and vice versa.
If someone clicks on the Register Interest button, an email with that person's email address will be sent to you. This allows you to send out follow-up emails. After the show you will receive a CSV file with all the email addresses AND names of the attendees who registered interest.
You can also chat in the chat tab or search for people in the people tab. You can chat by text or invite people to a video chat in person.
You can also browse the booths, sessions, networking and stage to your hearts content. There are 70 presentations on the stage and nearly 100 in the sessions.
Check out the schedule in the reception area to find out what's on when.